Cision Ltd. Announces Completion of Exchange Offer and Plan to Exchange Remaining Outstanding Warrants
CHICAGO
,
May 18, 2018
/PRNewswire/ -- Cision (NYSE: CISN) announced today the completion and settlement of its previously announced exchange offer (the "Exchange Offer") and consent solicitation (the "Consent Solicitation") relating to certain of its outstanding warrants. On
May 18, 2018
, Cision .....
...Read More »
Worldwide Hospitality POS/mPOS Software Market Report 2017
SS&C Announces Quarterly Dividend
WINDSOR, Conn.
,
May 18, 2018
/PRNewswire/ -- SS&C Technologies Holdings, Inc. (Nasdaq:SSNC), a global provider of financial services software and software-enabled services, today announced that consistent with the previously announced quarterly dividend policy, its Board of Directors has approved a quarterly dividend of <.....
...Read More »
TCL Celebrates National Streaming Day
CORONA, Calif.
,
May 18, 2018
/PRNewswire/ --
TCL
®
, one of the world's best-selling and America's fastest-growing television brand, today announced special, limited-time pricing across its full lineup of smart TVs in celebration of N.....
...Read More »
Sageworks, one of the country's first Fintech companies, is acquired by Accel-KKR
MENLO PARK, Calif.
,
May 18, 2018
/PRNewswire/ -- Today, Accel-KKR and Sageworks announced the purchase of Sageworks by AKKR, a private equity firm based in
Menlo Park, California
. The amount of the transaction was not disclosed. 
...Read More »
Tayloright Announces the Release of New Dental Marketing Platform
SALT LAKE CITY
,
May 18, 2018
/PRNewswire/ -- Tayloright LLC, has officially announced the release of a new dental marketing platform which will be released
May 2018
. This new platform will allow dentists across
the United States
to find the best SEO services for t.....
...Read More »
Sound United and Sonos Reach Settlement Agreement
Online Auction of High-End Motion Picture Camera Equipment Formerly Owned by Clairmont Camera Ends May 22nd
NORTHBROOK, Ill.
,
May 18, 2018
/PRNewswire/ -- The
August 2017
acquisition of
Clairmont Camera
by Keslow created a number of inventory redundancies which resulted in the need for the valuable asset sale. Both
...Read More »
LiveXLive Media To Stream Hangout Music Festival 2018
Kioskology Announces Complete Kiosk Solution for the Small- and Mid-Sized Quick Service and Fast Casual Restaurant Industry
GLENVIEW, Ill.
,
May 18, 2018
/PRNewswire-PRWeb/ -- Kioskology, Inc., the most customizable kiosk solution for the food industry, today announced it is unveiling its new QSR Kiosk at the National Restaurant Association Show,
May 19-22, 2018
in
Chicago
at ADUSA, Inc.....
...Read More »
Michael Cohl Joins Civilized Worldwide Inc. As a Board Member and Investor
Former Live Nation Chairman and legendary concert producer, theatrical producer and touring impresario providing his experience, network and support to the media company ...Read More »

Longview Dialog 2018 Conference | Benefits of a Connected Finance Organization
TORONTO
,
May 18, 2018
/PRNewswire/ -- 
Longview
will host its annual North American user conference, Dialog 2018, where 200 finance and tax leaders, industry visionaries and performance management practitioners will meet on <.....
...Read More »
Vitel Mobile Announces Exclusive Partnership with Hyundai Mobile
SEOUL, South Korea
,
May 18, 2018
/PRNewswire/ -- Vitel Mobile, Inc, largest open market Authorized Distributor for Samsung and LG in
Latin America
, has just announced today that it has also partnered exclusively with Hyundai Mobile to launch and distribute its full mobile line up.  This partne.....
...Read More »
AGC Showcases Glass-Based Smart Digital Home Concepts That Enhance User Experience--From Productivity And Performance To Wellness And Sustainability, During Display Week 2018
TOKYO
,
May 18, 2018
/PRNewswire/ -- 
AGC Asahi Glass
(AGC), today announced it will be showcasing the company's recent innovations in advanced materials and substrates for next-generation displays at its booth #717 during Display Week 2018, whi.....
...Read More »
Globant to Hold its Annual General Meeting of Shareholders on June 20, 2018
LUXEMBOURG
,
May 18, 2018
/PRNewswire/ -- Globant S.A. (NYSE: GLOB), a digitally native technology services company (the "Company"), announces that its Annual General Meeting of Shareholders ( the "General Meeting") is to be held on
June 20, 2018
. The General Meeting will be held at the registered.....
...Read More »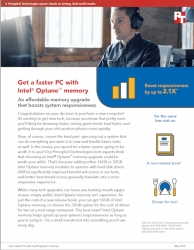 Principled Technologies Finds Intel Optane Memory Can Improve Responsiveness in Hard Drive-Based Systems, for Less Money Than Traditional RAM
In Principled Technologies' testing, PCs with Intel Optane memory modules obtained stronger benchmark scores than the same PCs with a greater amount of traditional RAM.
...Read More »
Vertafore Compliance Network on Sircon Expands to Reach Over 7,000 Agencies
DENVER
,
May 18, 2018
/PRNewswire/ -- 
Vertafore
®
, the leader in modern insurance technology, today announced the expansion of its compliance network on
Sircon
: over 7,.....
...Read More »