Huntkey, Provider of Home Automation and Power Solutions, Has Launched Its New Store Page on Amazon
SHENZHEN, China
,
Sept. 22, 2017
/PRNewswire/ -- Huntkey, a global leading provider of home automation and power solutions, has launched its newly designed
website
page on Amazon, which shows its products more clearly and
vividly.
...Read More »
Move Over Millennials: Adyen Research Pinpoints the Future Power Shopper
SAN FRANCISCO
,
Sept. 22, 2017
/PRNewswire/ -- 
Adyen
, the payments platform of choice for the world's leading companies, today released new research that explores the next generation of power shoppers and what retailers need to know as this generation comes of.....
...Read More »
Nearly Seventy Percent Set to Use Confluence for 2018 SEC Reporting Modernization
PITTSBURGH
,
Sept. 22, 2017
/PRNewswire/ -- To date, fund administrators and asset managers servicing or managing nearly 70 percent of all '40 Act funds have selected
Confluence's
Unity NXT Regulatory Reporting platform to prepare and file their Form N-PORT and Form N-CEN filings, key requir.....
...Read More »
Startup Helps Employers Discover Hidden Talent with Online Simulations; Raises $3.1 Million to Democratize Hiring
SAN FRANCISCO
,
Sept. 22, 2017
/PRNewswire/ -- EquitySim, a technology-driven online simulation-based recruiting platform that partners with financial services firms to identify top hidden talent around the world, announced today that it has secured
$3.1 million
in Series A funding led by leading .....
...Read More »
Dell Boomi Honors Top Partners at Boomi World 2017
ROUND ROCK, Texas
,
Sept. 22, 2017
/PRNewswire/ -- 
Dell Boomi
(Boomi), the leading provider of cloud integration and workflow automation software to build The Connected Business, today announced the recipients of the Boomi Partner Awards at the inaugural
...Read More »
New Flipsy Local Search Feature Makes It Easy to Sell iPhones to Local Stores
PORTLAND, Ore.
,
Sept. 22, 2017
/PRNewswire/ -- 
Flipsy.com
-- the world's most comprehensive smartphone buyback price comparison engine -- today announced the addition of
Flipsy Local
to its free suite of phone value research tools. The new fea.....
...Read More »
TASER Deployments Expanded Across Nine Federal and State Law Enforcement Agencies
SCOTTSDALE, Ariz.
,
Sept. 22, 2017
/PRNewswire/ -- 
Axon
(Nasdaq: AAXN) the global leader in public safety technology today announced the receipt of multiple orders for its 
TASER X2.....
...Read More »
Alliance Data Schedules Third-Quarter 2017 Earnings Conference Call For October 19, 2017
DALLAS
,
Sept. 22, 2017
/PRNewswire/ -- Alliance Data Systems Corporation (NYSE: ADS), a leading provider of loyalty and marketing solutions derived from transaction-rich data, will host a conference call on
October 19, 2017
, at
8:30 a.m. ET
to discuss the Company's .....
...Read More »
Dacor Turns Mealtime Into Showtime at the 2017 Greenwich Wine + Food Festival
GREENWICH, Conn.
,
Sept. 22, 2017
/PRNewswire/ -- 
Dacor
, a leading American luxury home appliance brand, today announced its sponsorship of this weekend's Greenwich Wine + Food Festival presented by Serendipity. Located at Roger Sherman Baldwin Park, the m.....
...Read More »
iMobie AnyTrans Offers 3 Ways for iOS Users to Flawlessly Move Data to iPhone 8 / 8 Plus
LOS ANGELES
,
Sept. 22, 2017
/PRNewswire/ -- 
Switching to iPhone 8 / 8 Plus
is not just getting a new device, it also comes along with the harsh task of a plethora of vital data & files migration. Given that, iMobie.....
...Read More »
To Show Off or Switch Off? Travelzoo Survey Finds Travelers Torn between Social Media and Desire to Disconnect
NEW YORK
,
Sept. 22, 2017
/PRNewswire/ -- If you didn't post it on your social media channels, did it even happen? As social media continues to influence the way people travel, the Travelzoo® Fall Travel Trends Survey* released today by global deals publisher Travelzoo (NASDAQ: TZOO) uncovered that travelers are finding thems.....
...Read More »
IBM Services and Retail Analytics to Support Walgreens Field Service Nationwide
ARMONK, N.Y.
,
Sept. 22, 2017
/PRNewswire/ -- IBM (NYSE:
IBM
) today announced a new agreement with Walgreens, one of the country's largest drugstore chains, to deploy IBM retail analytics at more than 8,100 locations nationwide to help improve the effici.....
...Read More »
Fractal Analytics Announces Partnership With Final Mile to Combine Data Science With Behavioral Science
JERSEY CITY, New Jersey
,
September 22, 2017
/PRNewswire/ --
...Read More »
Internet Marketing Agency, fishbat, Lists 10 Characteristics of a Successful Website
TRIBECA, N.Y.,
Sept. 22, 2017
/PRNewswire-iReach/ -- fishbat, a leading
internet marketing agency
which combines proven digital marketing strategies to help businesses increase profits and expand brand awareness, lists ten characteristics of a successful website.
...Read More »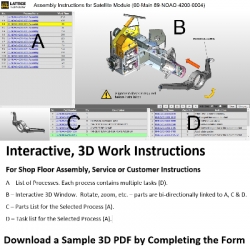 Webinar - Sept. 28 - Create Electronic Work Instructions for Assembly or Service from Any 3D System
How does your company create work instructions? Most companies still use applications, like Microsoft Word or PowerPoint, and general purpose drawing programs from Adobe and Corel. Using these general purpose applications have many shortfalls, attend this webinar to learn a better way.
...Read More »
Starbreeze Approved for Listing on Nasdaq Stockholm
CXO-Cockpit and OneStream Software Introduce an Integrated Financial Reporting Solution to the XF MarketPlace
ATLANTA
,
Sept. 21, 2017
/PRNewswire/ -- CXO-Cockpit and Corporate Performance Management solutions provider, OneStream Software, announced that they have teamed up to provide the growing OneStream community with a reporting solution that meets the OneStream standards with rich financial analytics and intelligent dashboards. C.....
...Read More »
Intuvo Makes Inc. Magazine's Annual Inc. 5000 List of America's Fastest-Growing Private Companies
SCOTTS VALLEY, Calif.
,
Sept. 21, 2017
/PRNewswire/ -- Intuvo (
www.intuvo.com
), a leading provider of marketing automation software to the financial industry, has been recognized by
Inc.
Magazine as one of America's fastest growing private companies of.....
...Read More »
/C O R R E C T I O N -- TransPerfect/
In the news release, TransPerfect Co-CEO
Phil Shawe's
Summer Gala Raises More Than
$250,000
For Charities And Scholarships, issued
21-Sep-2017
by TransPerfect over PR Newswire, we are advised by the company that the source should read "Phil Shawe" rather than "TransPerfect" as .....
...Read More »
Iowa Tribe's Isle of Man Company Secures Gaming License; Announces Pending Sale of Software Assets to Global Company
PERKINS, Okla.
,
Sept. 21, 2017
/PRNewswire/ -- The Iowa Tribe of
Oklahoma
has announced that a company owned by the Tribe and its internet gaming enterprise has secured a gaming license in the Isle of Man. Ioway Internet Gaming Enterprise Limited, an Isle of Man company, was issued an online g.....
...Read More »